Herefordshire based Whitbourne Mugworks, nowadays commonly known just as Mugworks, specialise in the supply of designed hand printed promotional mugs usually in low quantities to individuals, clubs, organisations, attractions, businesses, societies and retailers who want their own product but don't want to order in large numbers. We also supply key rings, fridge magnets, money banks, coasters, vacuum flasks, water bottles, travel mugs and mouse mats. We supply products ...
Our core product is the white Wycombe Rhino Coated mug, which you can see in the majority of the pictures on the site. Commonly known as a "Durham" shape our standard mug is a robust earthenware product, commonly found in many sporting club shops, in the workplace and around the home. It is the standard mug used for promotional products and used as a "Club Mug" in almost every sport or social organisation.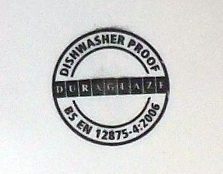 While the standard mug is and always has been "dishwasher safe" (in other words, pretty good in the dishwasher but not guaranteed dishwasher proof) we have recently introduced a further option of the guaranteed dishwasher proof Duraglaze White mugs with a 50p supplement per mug over the Standard.
These are very similar to our standard Durham shape but with a slightly bigger more C shaped handle and 2-3mm taller. But to all intents and purposes are a direct twin of our standard mug
Within the Duraglaze range we can also offer "Duraglaze Two Tone" mugs with a coloured inner and handle at £1-00 supplement on top of the standard price – with a choice of 12 colours in the range. .... and within that two tone range we can also supply "Rim and Handle" style for customers who like two tone but want a more subtle approach.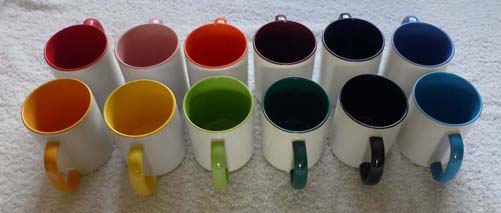 Red, Antique Pink, Orange, Bordeaux Red (aka Burgundy), Cobalt Blue (aka Midnight Blue), Cambridge Blue
Golden Yellow, Bright Yellow, Light Green, Green (aka Forest Green), Black, Light Blue
We additionally supply Porcelain mugs (see picture below) for customers who are looking for slightly different product.

The Jubbly Jock Series Porcelain Mug
We are also happy to supply the popular ENAMEL MUG which has become very fashionable, despite being a product from the early 20th Century hanging from the belt of an Australian Swagman in the Outback or in an earlier century part of the kit of an outdoor workman such as a railway navie. With its metallic structure it is ideal for taking on a picnic, using in an outdoor workplace or just having something a little different from the traditional ceramic mug.

Always ask for whatever you want either by email
or by telephone where we are happy to chat ......
Telephone us on 01886 821198
or if you feel more comfortable using a mobile number .... 07833 646304