Want to know more about Whitbourne Mugworks?
Based in the village community, Whitbourne Mugworks is a typical small business where there are no set working hours other than all day and all night and where most of the time you will reach a human being if you telephone us (though occasionally you'll reach the answer phone and we'll call you back as soon as we can).
Our most local town is the market town of Bromyard - and we are always pleased to provide the promotional mugs for local festivals. >
Who runs Mugworks?
The principle of the business is Keith Butler, supported by his accountant wife Lynn who is sometimes referred to as "the accounts lady" in our correspondence. She keeps the books straight.
The Mug Man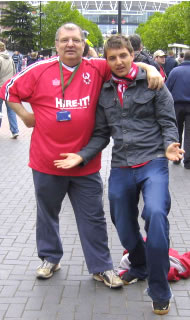 Keith has a long sporting pedigree having worked for MCC at Lord's, Worcestershire County Cricket Club, has merchandised for Goodyear in Formula 1 and was Commercial Manager at Gravesend and Northfleet FC (long before it became Ebbsfleet United), Rochdale, Southport (when it was a Football League club), Hereford United, Cardiff City and Wolverhampton Wanderers Football Clubs (having also worked at Cheltenham Town, Millwall and Swindon Town). As if that isn't enough he also built and ran the Cricket Shop at Edgbaston for Warwickshire County Cricket Club over a ten year period - and where he was responsible for the famous King of Spain mug.
Tired of constant commuting on the M40 while at Lords he decided to work closer to home. He now is the owner of Whitbourne Mugworks which he has run since 2008.
Our picture shows Keith and son Adam supporting their football team at Wembley (some years ago now!!!). Can you work out which Club they are supporting - answer is revealed on the Personalised Mugs page.
Adam, Nick and oldest son Simon occasionally help in the business, all the time learning the trade before it comes the time when the "old man" retires .... he expects around 2053 when he'll be 100 yo.