The "Sandhurst" Porcelain Mug
We also have a really nice Porcelain China mug (which we call a "Sandhurst") also adding £1-00 to our standard price.
The Sandhurst is a Porcelain China mug which is also Rhino Coated. It has a capacity of 280ml, a weight of approx 266 grams. It's height is about 102mm and a diameter of 70mm / circumference 220mm of which we can print on around 165mm x 90mm height.
It is very much a general purpose mug and is certainly robust - but adds that touch of class that comes with a china product. Many say it is really nice to drink tea from.
This mug is not really suitable for printing with a "full sleeve" ... in other words with a solid colour from top to bottom. We do undertake it occasionally when asked, but the print near the lip and at the bottom can mottle a little - although customers have always appeared happy, we never feel it is the perfect finish.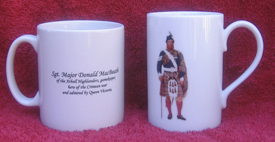 This shows the contrast in size between the standard mug (left) and the Sandhurst Porcelain Mug which is 10mm taller, but with a smaller circumference by 4cm.
What's in a name?
Confusingly our supplier calls this mug a "Windsor Rhino Coated", so that's what you will often see printed on the side of the box when it is delivered! However, we've always known this shape as a Sandhurst, so will continue to market it as such.