This section also contains two sub-sections ... "About Mugs" are the types of mugs we supply; "Sublimation" is the method by which we print them.
 .... but firstly 
About Whitbourne - the home of Mugworks the Custom Mug Makers
The village of Whitbourne lies midway between Worcester and Leominster in the Herefordshire countryside and is almost unknown to the big wide world. Yet it was the setting where, in the years between 1603 and 1620, Francis Godwin wrote the first ever science fiction book (though not published until 1638 after his death), The Man in the Moone. Some 50 years before Isaac Newton watched the apple fall and "discovered" gravity, Godwin described in the book "... a secret property that pulls things towards the earth, but which get weaker with distance and has no power in space ...".  Gravity !!!! 
Our beautiful church in Whitbourne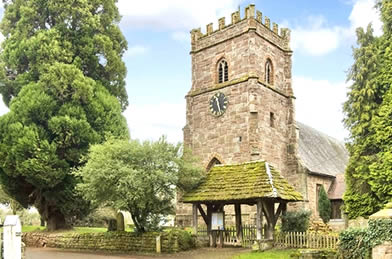 In fact Godwin lived and wrote his book in the house next door to the Church!  He was, after all, Bishop of Hereford and the "house next door" was in fact the Bishop's Palace.  As is the entitlement of a Bishop, Godwin is burried within the Church.  Interestingly, a recent mug we have made is for Wycombe Atronomical Society, which was designed by a decendant of Francis.
Less well known is that Whitbourne is home to Kit Harrington aka Jon Snow in "Game of Thrones", one of the biggest television series in the World. Good see the little boy my kids grew up with on the front cover of magazines, on the side of London busses and starring in Holywood movies (such as Pompeii and Spooks) as well as on the stage (Kit was in the original stage production of "Warhorse" and is regularly in productions of his first love - live theatre).
The other thing that puts Whitbourne on the map is Whitbourne Mugworks.
Want to know more about Whitbourne Mugworks?
Based in the village community, Whitbourne Mugworks is a typical small business where there are no set working hours other than all day and all night and where most of the time you will reach a human being if you telephone us (though occasionally you'll reach the answer phone and we'll call you back as soon as we can).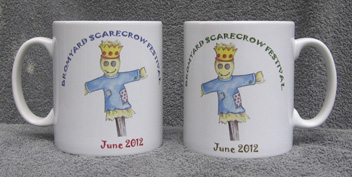 Our most local town is the market town of Bromyard - and we are always pleased to provide the promotional mugs for local festivals .
Who runs Mugworks?
The principle of the business is Keith Butler, supported by his accountant wife Lynn who is sometimes referred to as "the accounts lady" in our correspondence. She keeps the books straight. 
The Mug Man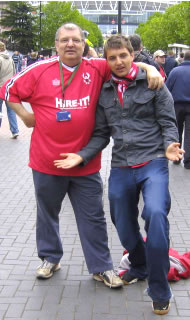 Keith has a long sporting pedigree having worked for MCC at Lord's, Worcestershire County Cricket Club, has merchandised for Goodyear in Formula 1 and was Commercial Manager at Gravesend and Northfleet FC (long before it became Ebbsfleet United), Rochdale, Hereford United, Cardiff City and Wolverhampton Wanderers Football Clubs (having also worked at Millwall and Swindon Town). As if that isn't enough he also built and ran the Cricket Shop at Edgbaston for Warwickshire County Cricket Club over a ten year period - and where he was responsible for the famous King of Spain mug.
Tired of constant commuting on the M40 while at Lords he decided to work closer to home. He now is the owner of Whitbourne Mugworks which he has run since 2008.
Our picture shows Keith and son Adam supporting their football team at Wembley (some years ago now!!!). Can you work out which Club they are supporting - answer is revealed on the Personalised Mugs page. 
About Our Mugs too...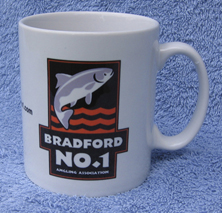 Our core product is the WYCOMBE RHINO COATED MUG in what is commonly known as a DURHAM shape, featured above.
This is a high quality mug produced in the far east (our mugs are mainly produced in Thailand) and printed at our works in Herefordshire. If you would like to know more about the range of mugs we can supply please visit out 'About Mugs' page. (click on the highlighted words to go to the page).

The Rhino Coating is, we believe, the best surface into which we print by sublimation. If you would like to know more about Sublimation read more >>  (click on the highlighted words at the top of this page).
You can order Promotional mugs (and other products) for your club, business, organisation, etc or even individual personalised mugs. 
Our range of customers
Customers of WhitbourneMugworks include:-
Football Clubs 
Local Political Groups
Cycle Clubs
Motor Racing
Model Aircraft Clubs
Railway Societies
Cage Fighting
Potholing Clubs
Show Jumping
Rugby Union
Womens Institute
Canoe
Dog shows
Scout Troops
Food Festivals
Flying Clubs
Fishing
Climbers
Player Testimonals & Benefits
Pop Groups
Card Gamers
Artists
Local Shops
Music Festivals
Members of Parliament
Ice Hockey Clubs
Nostalgia 
Motorcycle Clubs
Doctors Surgery's
Parish and Town Councils
Angling Clubs
Police
Bands
Ballet

Theatres
Horse Racing Courses
Chess Clubs
Motor Traders
Rugby League
Athletic and Running Clubs
Diamond Jubilee
Speedway Teams
Radio Stations
Skittles
Sailing
Local Authorities
Hunts
Bat and Trap
Sub Aqua
Gyms
Zoo's
Schools
Hockey Clubs
Preserved Railways
Birthdays
Tennis & Squash Clubs
Badminton Clubs
Guides, Boys Brigade & Scouts
Tourism Industry
Basketball Clubs
Prisons
Churches
Cricket Clubs
Historic Planes
Caving
Croquet
Beekeepers
The Rural Thing - a way of life
We mention a few times on this site that we operate from the Countryside rather than a town or city?  No reason really other than it is a lifestyle choice that, we hope, reflects a little bit about ourselves.  We don't overplay it but we are as eco friendly as possible, making as little harmful impact on the environment as we possibly can. 
Our world is important to us so we recycle (including when we can, re-using the packaging that your mugs are delivered to us in, to send on to yourselves), try to work as paper free as possible and indeed try to be a fuel efficient business. We recycle water and avoid chemical pollution (including printing inks) into our drains.
We don't have a cottage with roses around the door - our premises are in fact quite modern - but it is a calm way of life, where we will occasionally get the smell of the farm rather than car exhausts, the sound of a tractor rather than the police siren and occasionally get cut off by flooding.
We are often visited by interesting creatures that will distract us for a few minutes (including a chicken wandering in when the door is open) - but with our way of life we do have that few minutes.  
We have a fairly old fashioned approach to business that seems to get lost in the hustle and bustle of the modern City - and yet are fully up to date in operations, reflected in our use of IT and the internet.  
It's a lifestyle we have chosen for the family and the workplace. No big deal - we just think it's worth saying.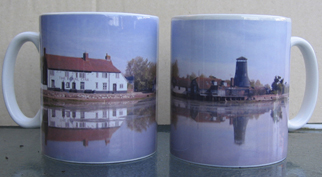 We hope you enjoy looking through our website. Don't forget to look at our amazing, extensive gallery too!