Mugworks - The Mug Printers 
Herefordshire based Whitbourne Mugworks nowadays just known as Mugworks specialise in the supply of designed hand printed promotional mugs usually in low quantities to clubs, organisations, attractions, businesses, societies and retailers who want their own product but don't want to order in large numbers. We also supply key rings, fridge magnets, money banks, coasters and mouse mats.
We supply products  ...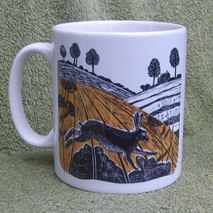 ... at very competitive prices                                 

... with flexible commercial quantities (from a dozen upwards)

... including individual mugs by post

... with a very fast turn around if required

... with any design you desire - and a design and advise service

... with delivery included in our standard prices *
 (* UK mainland only, excluding North of Scotland)                                                               
            Telephone us on 01886 821198
Our Product Range
Our core product is the white Wycombe Rhino Coated mug, which you can see in the majority of the pictures on the site.  Commonly known as a "Durham" shape our standard mug is a robust earthenware product, commonly found in many sporting club shops, in the workplace and around the home. It is the standard mug used for promotional products and used as a "Club Mug" in almost every sport or social organisation. 
Have a look at the running bar at the bottom of the page to see some of the mugs we have done ... and to give you an idea of the huge diversity of our customers.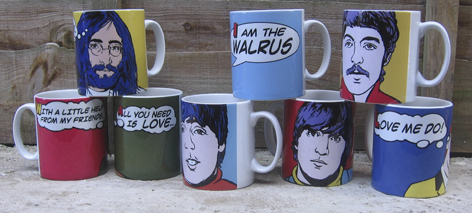 The Beatles range of mugs
We also supply Porcelain mugs (see picture below) for customers who are looking for slightly different product. Always ask if that's what you want.  

The Jubbly Jock Series Porcelain Mug
We mainly do Mugs ... lots of mugs ... plus a few other bits n' pieces.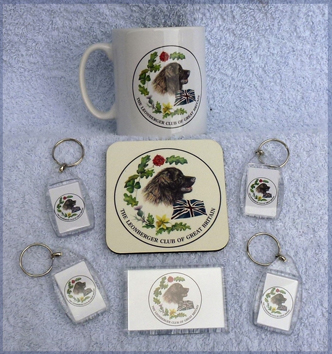 ...... like coasters, key rings, fridge magnets, mouse mats, jigsaws & telephone cases.
NEW for Spring 2017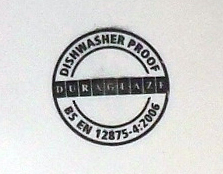 While the standard mug is and always has been "dishwasher safe" (in other words, pretty good in the dishwasher but not guaranteed dishwasher proof) we have recently introduced a further option of the guaranteed dishwasher proof Duraglaze mugs with a 25p supplement per mug. And within the Duraglaze range we can also offer "Two Tone" mugs with a coloured inner and handle at £1-00 supplement on top of the standard price – with a choice of 12 colours in the range.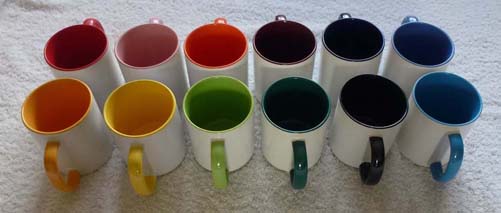 Red, Antique Pink, Orange, Bordeaux Red (aka Burgundy), Cobalt Blue (aka Midnight Blue), Cambridge Blue
Golden Yellow, Yellow, Light Green, Green, Black, Light Blue
Quantities
While one of our selling points is our ability to supply low numbers, often at short notice, we are just as happy with larger runs.
Orders for 12 mugs are not uncommon but neither are orders for 200-1500 mugs. It may be the Premier League Football Club that orders 12 and the Junior Rugby Club based in a small village who requires 200. Just let us know what you need.

Our prices reflect economy of scale but possibly not in the way you might think. While a larger number of mugs has a minor impact on the time it takes to make each unit, the real impact on cost is delivery.  It costs us as much to deliver 6 mugs as it does to send 60. Over sixty the delivery price increases on weight so our discounting for numbers is more about our inclusive delivery costs as it is about making of the products.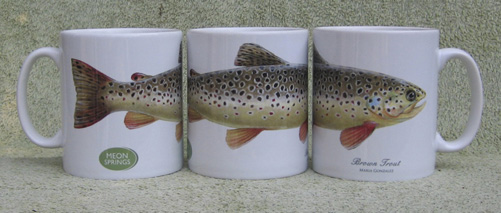 The other impact is the design and setting up time for any job which is the same for 10 as it is for 1,000. Once again, we don't charge separately for this but include it in the unit price .... so normally a small run has a greater unit price than a larger quantity.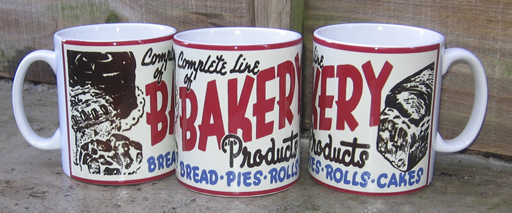 Nevertheless, we believe we offer some of the best value for money personalised products around on a like for like basis and can match any other mug supplier for service, quality and price on small quanities (and "small" is under 1,000 units).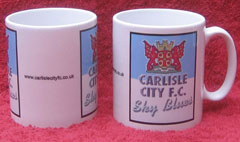 Delivery & Lead times
Our normal delivery time from confirmation of order is less than a week.  But we are flexible – it's one of our strengths.
If you are really, really in a rush, we can turn things around in 24 hours as long as we don't have to let other customers down by doing so. But some customers want to specify a particular day for delivery.  As long as it's a weekday, we can accomodate that ... even if it's some weeks ahead.
The classic story on how quickly we can react is an FA Cup commemorative mug where a non-league team won a tie on a Tuesday night to go through for a home tie against a much bigger Club on the Saturday.  They wanted a souvenir mug for the occasion (but being superstitious hadn't set up anything before winning the Tuesday fixture) and from scratch, we had them in their shop and ticket office by the Wednesday night in time to sell the mugs with match tickets on the Thursday morning. That took a special effort, and it was reasonably local, (normally we need to add 24 hours for the courier delivery too), .... but it can be achieved.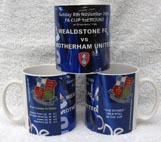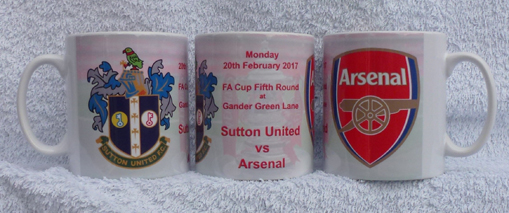 We didn't even have time to photograph the mugs featured in the above story but  good examples of our
FA Cup specials are pictured.
But we also have a little slogan on our office wall (one of those motivational pictures) - "Better right than rushed" - so in reality in normal circumstances we ask for 7 - 10 notice before you require delivery.
Our current contractor for delivery is UK Mail. They deliver on UK Mainland on a next day basis (2 days to North of Scotland) and while we can time our day of delivery, we can't set a time because the drivers only plan their routes first thing in the morning when they know what delivery or collections they have.
Our courier collects from us at around lunchtime (we target 1pm) but this can vary, so once again we need time to get a rush order ready by noon. 
The extra things we can offer.
We can supply little and often - thus taking out both risk, the need for storage and tying up money with stockholding - we are a classic JIT operation. 
We offer a design service using our years of experience, a good immagination and the nerve to tell you if we think your ideas are rubbish or the quality of the artwork you have sent isn't good enough. In the end we both want the same outcome - a great mug. 
We can split a supply to give you a set of mugs within the same delivery, with a larger overall number to get the quanity price but with maybe six different designs.   For example  ....
a sports club featuring favourite players
a museum featuring different displays
a preserved railway featuring not only different steam locomotives but also very small runs of carriages & wagons which have their enthusiasts but maybe in limited numbers.
Prizes for team competitions featuring 1st, 2nd, 3rd - even our famous "Wooden Spoon" Mug for the team that tried hard but came last.
We charge an extra £1 (that's all) for each change within an order which just about covers our cost for a new screen.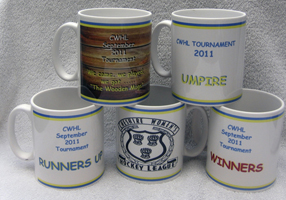 And that is the key. We basically do whatever you want.  Our attitude is that it's YOUR mug and within the constraints of the print area, (and legality) will put whatever you want on the mug .  Of course we will advise and help because, seeing mugs every day, we know what works and what sometimes doesn't - particularly as sometimes a design in the round will look very different than when on a flat screen or a piece of paper.
But if you want green spots on a purple background (which actually does look quite good) then we will produce it.  We sometimes produce a mug we personally hate - but it's your mug, not ours. And our taste won't be the same as other people. 
But as a rule of thumb ...
Keeping things simple normally produces the smartest mugs.
Making things too "busy" can, on occasion, look a bit of a mess.
Remember that a person can only see one side of a mug at a time so a design that looks great "flat" can be confusing "in the round".
Finally - the real extra we can offer is ourselves. We like to think we offer great personal service, that we don't let people down, that we do what we say we are going to do, on time and with a smile.  :-)
We can cater for everyone - our minimum quantity is one - but normally a commercial customer will order a minimum of 12
IN SHORT WE MAKE BESPOKE MUGS
ANYTHING YOU CAN PUT ON A PIECE OF PAPER WE CAN PRINT ON A MUG.
Our site is full of information - we want to tell you every detail about our business – so why not visit our 'Mug Chat' where we let you know what we're up to and what our happy customers are saying about us. Or why not take a look at our Gallery where we display over 1,000 of the fantastic mugs we've been asked to create.
Contact us today: tel: 01886 821198 or complete our enquiry form here